Regulation ready expertise
Get distilled insights and analysis from experts in life sciences and chemical regulation—so you can see more, faster.
Everything you need to understand, plan for, and shape regulation
AgencyIQ gives you chemical and life sciences regulation insights by industry experts who provide a daily concise synthesis of complex regulation. Stay up to date on industry happenings with personalized alerts and workflows, newsletters, and collaborative tools, all in a single, easy-to-use platform. Our curated workspace of analysis enables you to see the big picture, accelerate actions, and important next steps.
on regulation, legislation, and more
combined regulatory experience
Chemical Webinar
Life Science Webinar
Chemical Webinar
Looking ahead to 2024: Regulatory Forecast for the U.S. and the EU
Life Science Webinar
FDA Forecast 2024: What we expect the FDA to do in 2024
Regulation insights on
Chemical
Agriculture
Automotive
Chemical Management
Emissions
Energy
Electronics
Food Contact Materials
Globally Harmonized System
Hazardous Waste
Hazardous Substances
Household Products
Occupational Exposure Limits
Personal Products
Pesticides
Life Sciences
Advanced Therapies
Biologics
Blood Products
Diagnostics
Dietary Supplements
Generics/Biosimilars
Medical Devices
OTC Products
Pharmaceuticals
Stay up to date
Sign up for our free newsletters to receive insights on regulatory developments in your industry.
FDA Today
Catch up on impacts and implications that the latest regulations, policies, and actions of the Food and Drug Administrations (FDA) have on the life science industry.
EMA Today
Stay on top of current life sciences regulation in the European market with a quick-to-read summary, supported by thoughtful and exclusive analysis.
The Periodic
Get succinct and timely insights into chemical and hazardous substances regulation. Deep research, expertise, and analysis in an easy to read format.
With more than 100+ combined years of regulatory experience, AgencyIQ regulatory experts give you accurate and timely insights—ensuring a bird's-eye view of regulations.
Meet the Team
One platform, endless insights
Stay in the know
Daily, concise synthesis of research, analysis, and updates to help you gain clarity and get up to date quickly on developments within your industry.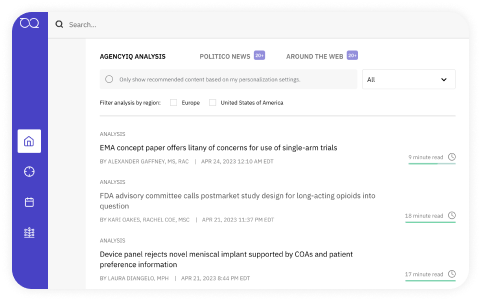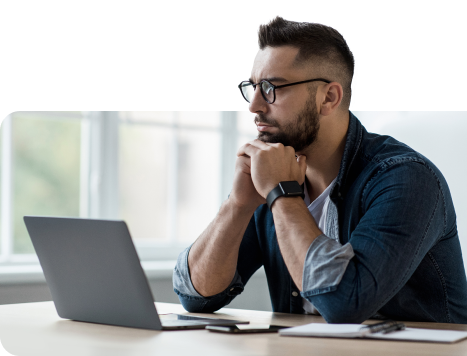 Information that
works for you
Regulatory experts sift through the latest guidance, rules, and legislation—so you don't have to. Giving you customized insights so you can act fast, predict outcomes, and make an impact. Use the on-platform Ask the Expert feature to interact with our research team directly.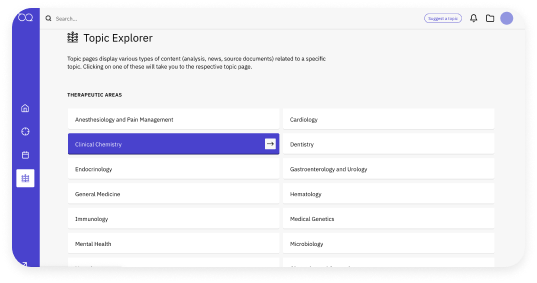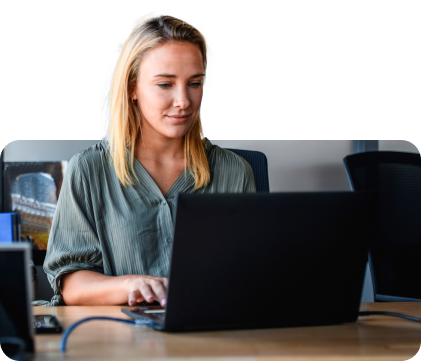 News that impacts you
Daily coverage from a large, non-partisan newsroom helps you gain insights research from the #1 most trusted regulatory intelligence source.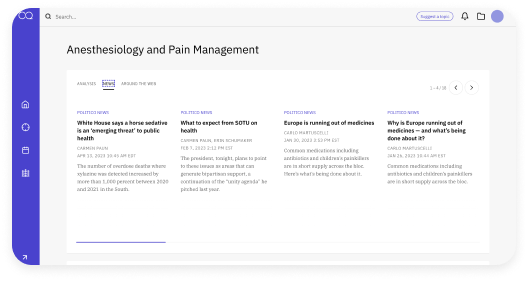 Collaborate seamlessly
Create your own collections to organize your regulatory documents and relevant content or take advantage of the Curated Collections that are organized and updated by the AgencyIQ research team on specific policy topics. Collaborate by sharing regulatory research, news, and analysis with your teammates and stakeholders through the Collections feature.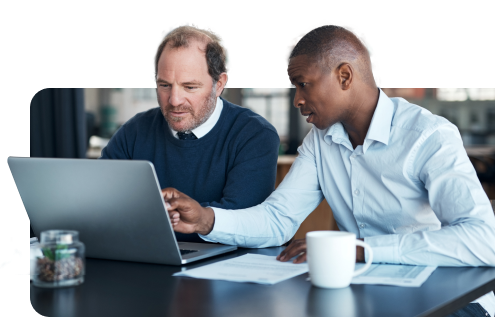 Access, track, and evaluate information
Powerful search tools allow you to quickly retrieve results, notices, warning letters, recalls, and more. Discover regulations that are important to your organization. Access the status of Citizen Petitions submitted to Federal agencies and view a side-by-side comparison to weigh different versions of guidance documents with our easy-to-use Guidance Tracker.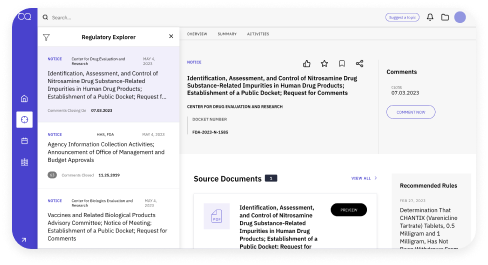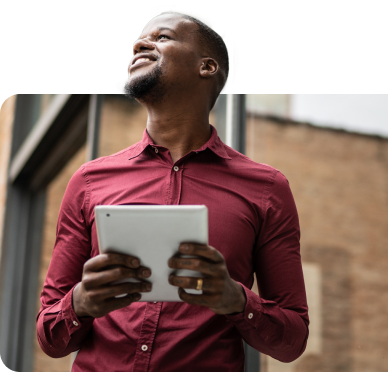 Identify Policy Changes
Monitor bills of selective federal congressional committees and subcommittees to follow legislative developments that could impact your industry (Life Sciences Platform Only).